The Test of English as a Foreign Language
The Test of English as a Foreign Language, or TOEFL, is the most widely used assessment of English by universities in the US. TOEFL is based on American English and includes listening passages that test a student's ability to understand academic lectures and conversations between students, professors, and university administrators. Reading and writing sections focus on academic topics and require a high level of vocabulary to score well. Finally, the speaking section asks students to give timed responses that are recorded and later scored by TOEFL examiners.
TOEFL scores range from 0-120 for each skill area: reading, writing, listening, and speaking.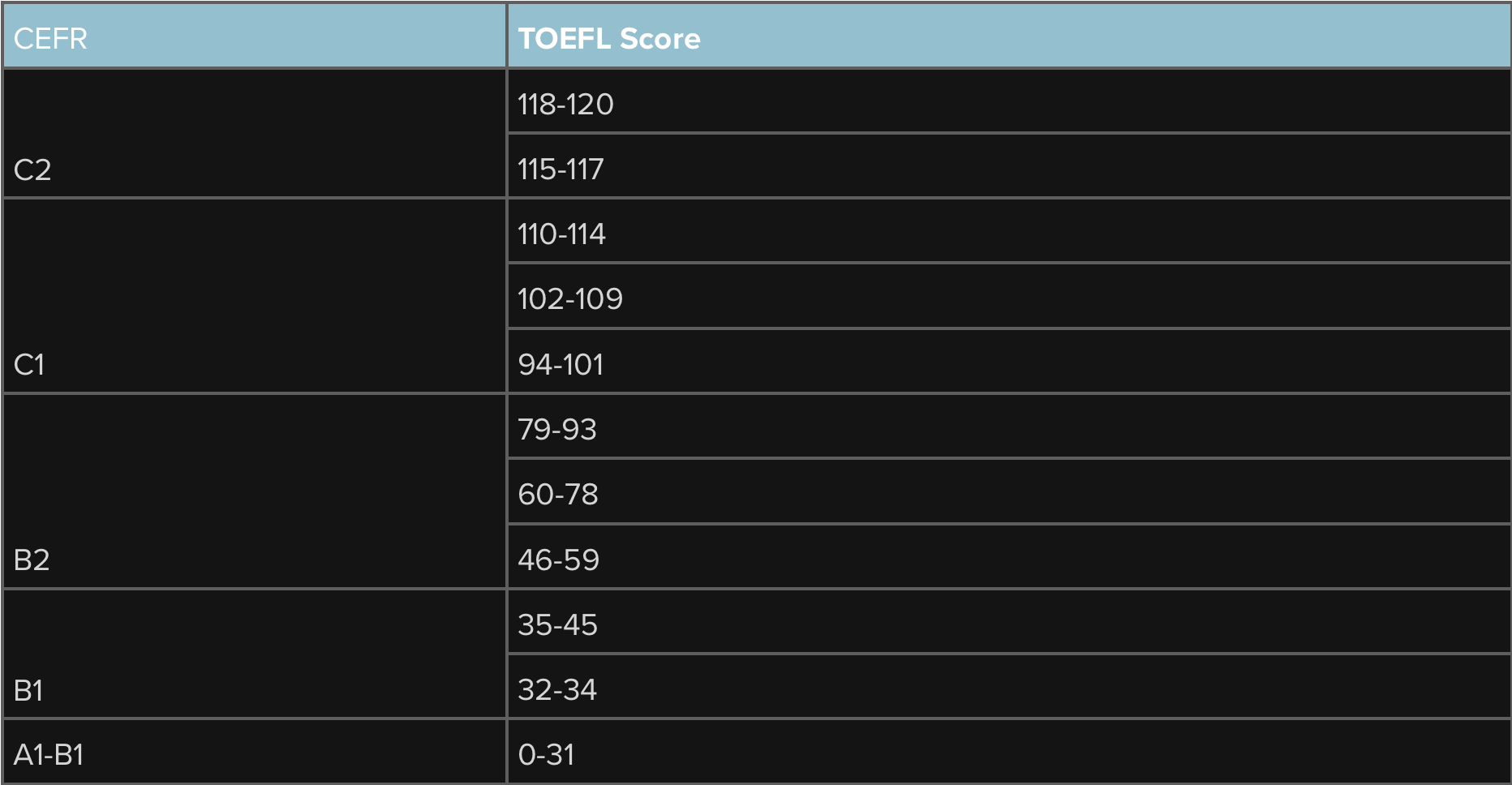 90-100: TOEFL scores in this range are perfectly good. At this level, your TOEFL score is good enough for most universities. With these TOEFL scores, you also have a shot at getting a position as an RA, TA, or GA on campus.
100-110: These are very good TOEFL scores. Once you start scoring this high on a TOEFL iBT, you can be accepted into Ivy League schools and other top universities.
Be sure to check with your desired program's admissions department to find out what score ranges they accept.  This will help you set your target score.
In this course, you will:
Take at least 2 full-length practice exams with detailed scoring and feedback from a TOEFL expert
Access hundreds of practice questions for each section of the test
Learn strategies to quickly read for main ideas and details in academic texts
Build your vocabulary to prepare for university-level reading and writing
Get useful practice with a native-speaking teacher who will provide practical strategies for listening to lecturers and administrators with American accents
Practice speaking clearly and effectively deliver the timed responses required on the TOEFL exam
Master process of writing well-structured academic essays to maximize your scores on the writing section
APPLY TO THIS COURSE
In this course, you will:
Take at least 2 full-length practice exams with detailed scoring and feedback from a TOEFL expert
Access hundreds of practice questions for each section of the test
Learn strategies to quickly read for main ideas and details in academic texts
Build your vocabulary to prepare for university-level reading and writing
Get useful practice with a native-speaking teacher who will provide practical strategies for listening to lecturers and administrators with American accents
Practice speaking clearly and effectively deliver the timed responses required on the TOEFL exam
Master process of writing well-structured academic essays to maximize your scores on the writing section
APPLY TO THIS COURSE