The International English Testing System
The International English Testing System, or IELTS, is recognized around the world as the most comprehensive evaluation of written and spoken English available. There are 2 categories of IELTS exams–Academic English and General English. Both exams include reading, writing and listening sections as well as an in person interview with an IELTS examiner.
Each skill area is scored on a scale from 0-9.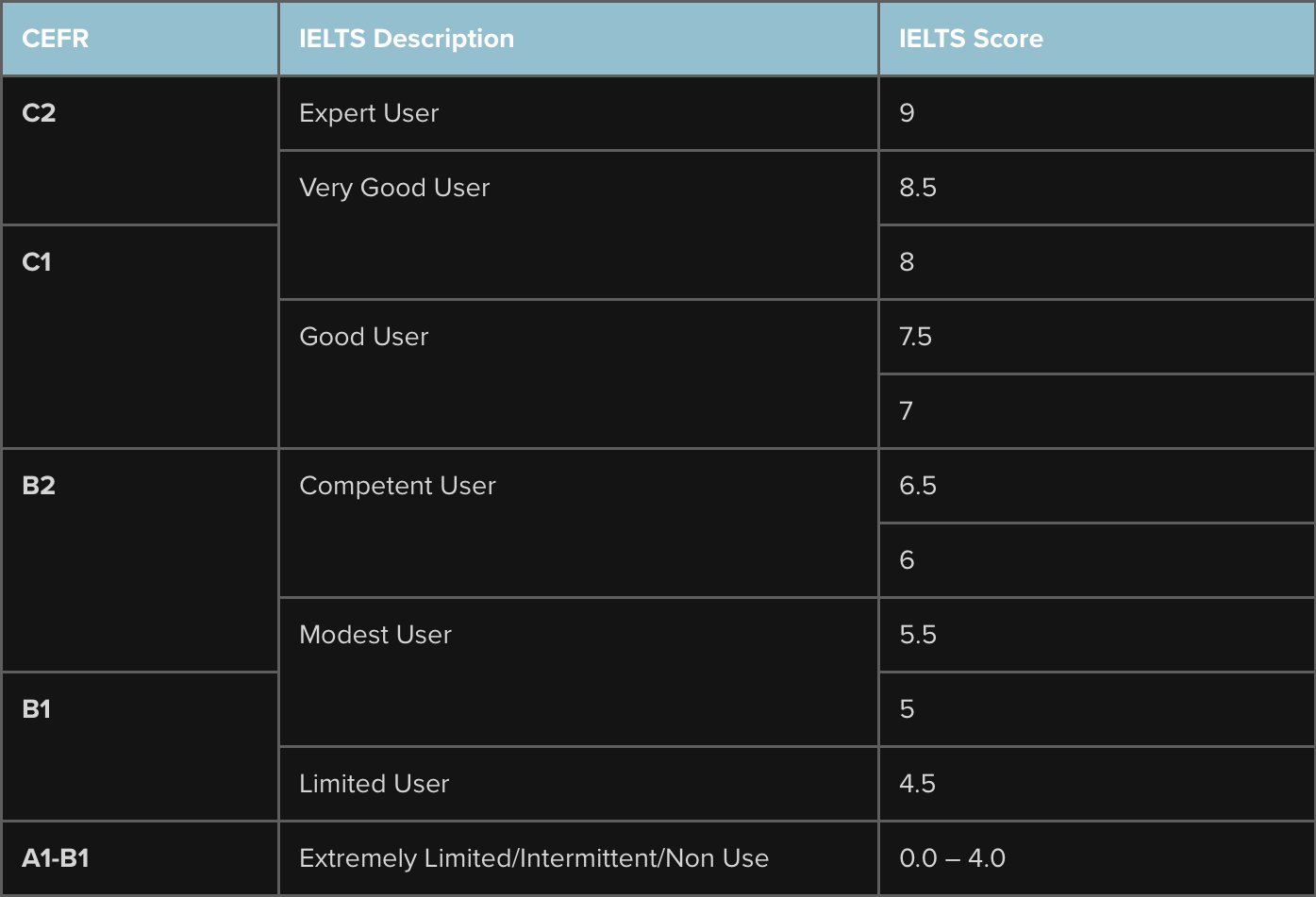 Most universities require an overall score of 6.5 or above for admission. Be sure to check with your desired program's admissions department to find out what score ranges they accept.  This will help you set your target score.
In this course, you will:
Take at least 2 full-length practice exams with detailed scoring and feedback from an IELTS expert
Access hundreds of practice questions for each section of the test
Learn strategies to maximize listening and reading skills necessary for achieving a high score
Build vocabulary to improve reading and listening comprehension and enhance your writing and speaking scores
Develop writing skills with strategies to help you better organize your ideas, avoid grammar mistakes and write well-structured essays
Improve writing complex sentences to boost your grammar score in the writing section
Practice speaking on a variety of topics with a native-speaking teacher who will prepare you for a successful 15 minute interview
APPLY TO THIS COURSE
In this course, you will:
Take at least 2 full-length practice exams with detailed scoring and feedback from an IELTS expert
Access hundreds of practice questions for each section of the test
Learn strategies to maximize listening and reading skills necessary for achieving a high score
Build vocabulary to improve reading and listening comprehension and enhance your writing and speaking scores
Develop writing skills with strategies to help you better organize your ideas, avoid grammar mistakes and write well-structured essays
Improve writing complex sentences to boost your grammar score in the writing section
Practice speaking on a variety of topics with a native-speaking teacher who will prepare you for a successful 15 minute interview
APPLY TO THIS COURSE